No Appointments can be made for Piercings Online
First Come First Serve
Walk In Only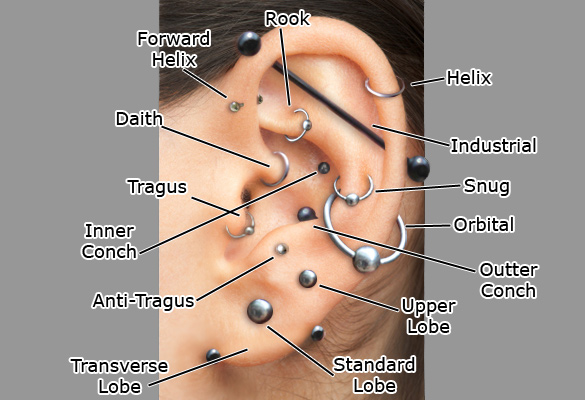 Piercing Prices (ALL PIERCINGS ARE PRICED WITH JEWELRY AND AFTERCARE PRODUCTS ALREADY INCLUDED)
Lobe $40.00
Cartilage $45.00
Rook $50.00
Conch $50.00
Tragus $50.00
Daith $50.00
Helix $50.00
Double Helix $80.00
Triple Helix $120.00
Industrial $75.00
Conch Industrial $100.00
Eyebrow $50.00
Nostril $50.00
Septum $50.00
Bridge $60.00
Tongue $60.00
Labret $60.00
Medusa $60.00
Monroe $60.00
Lip $60.00
Vertical Lip $60.00
Snake Bites $100.00
Cheek $90.00
Navel $60.00
Dermal Anchors – 1 for $90.00 / $60.00 for each additional (same sitting)
Nipple / Vertical Nipple $60.00
Both Nipples $100.00
Any Genital Piercing (male / female) Please Ask
HOUSTON'S BEST PIERCING STUDIO IN TEXAS – 7 YEARS IN A ROW!
---
Houston's only stand alone piercing studio located next to the World Famous Texas Body Art in Northwest Houston. Full range of piercing services in a clean reputable environment. State and health certified in the state of Texas. Awarded best piercing studio in Houston 7 years in a row by the USBA.
Owned and operated by the legendary tattoo artist Johnny Jackson . Ben Reel is the head piercer and Aaron Powers works tandom with him with over 20 years experience in Body modifications and piercings. Huge selection of Body Jewelry to choose from at low prices. All piercings include jewelry and aftercare products for the safety and healing of our work.Leading the way and setting the standards in Houston as the best piercing studio in Houston Texas.
12535 Jones Rd. Houston Texas 77070 | 281-894-2227
---
WHAT YOU NEED FOR MINORS TO GET PIERCED
Minors must have a biological parent or legal guardian (Legal guardian means an adult with legal court documents notarized and stamped) present with a valid picture ID, birth certificate of minor wishing to be pierced, and a photo ID for minor. A school yearbook, school ID, or state ID will work for in the identification process. Names on the birth certificate must match names on IDs.
We apologize for any inconveniences this may cause but you need to bring all the proper documents if you lan on getting your minor pierced.
WE DO NOT PIERCE CHILDREN UNDER 13 NO MATTER WHAT. This includes babies earlobes.
For Laws and info on tattooing and piercing minors can be found HERE