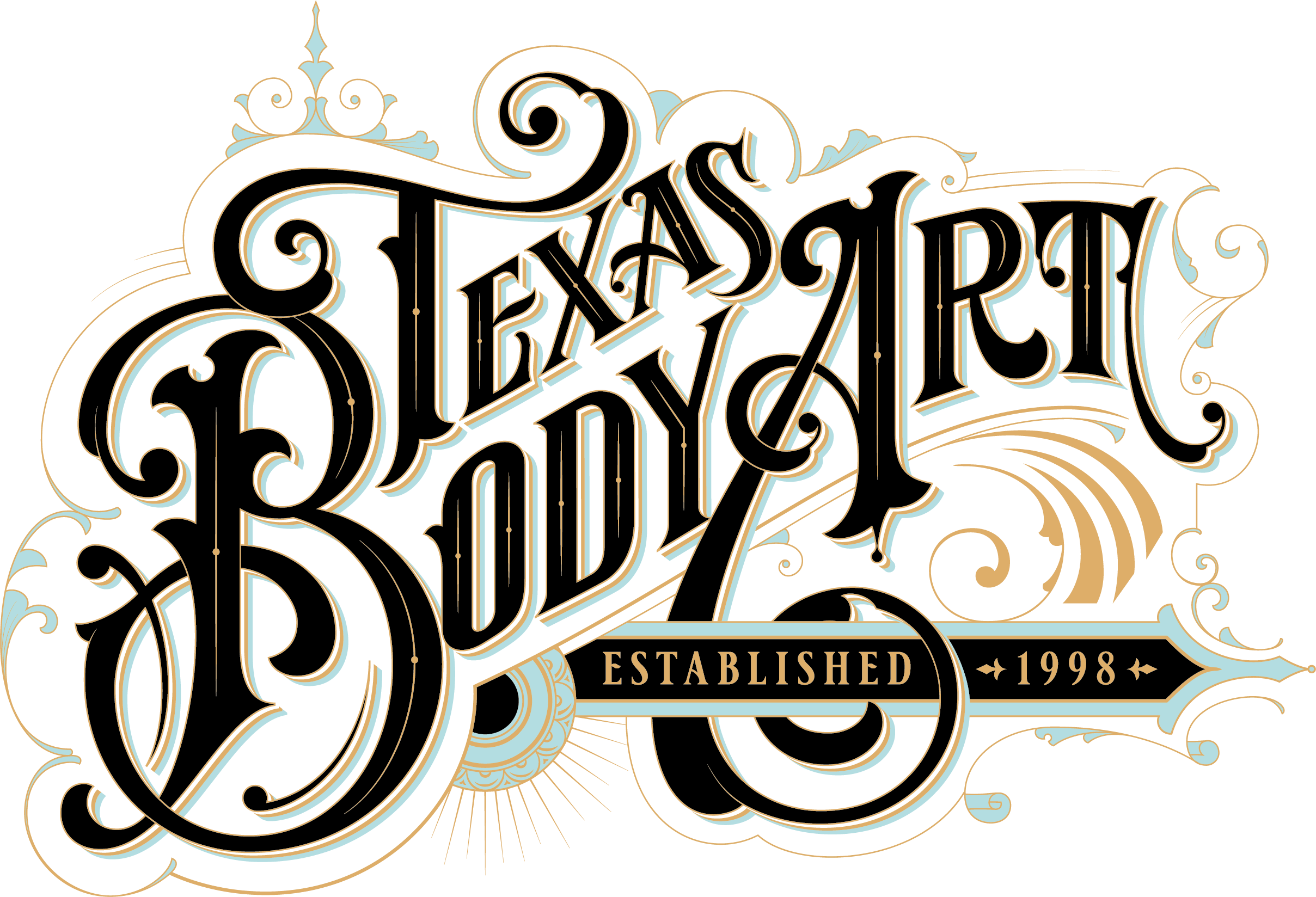 TEXAS BODY ART HAS 2 HOUSTON AREA LOCATIONS TO SERVE YOU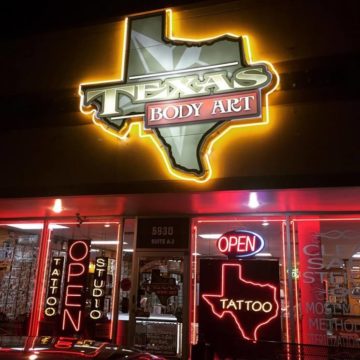 (281) 463-3302
Open Sunday – Thursday from Noon till 1 a.m.
Friday and Saturday Noon till 2 a.m.
---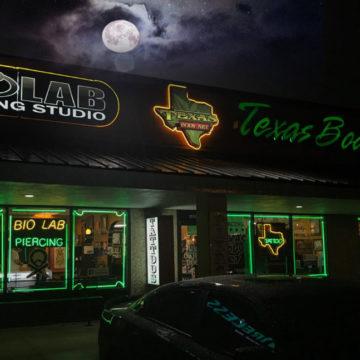 (281) 894-2282
Open Sunday – Thursday from Noon till 1 a.m.
Friday and Saturday Noon till 2 a.m.
---
Texas Body Art is a custom award winning tattoo shop located in Houston. Led by the energetic tattoo icon Johnny Jackson. We have multiple talented tattoo artists ready to design your tattoos, NOW WITH TWO LOCATIONS TO SERVE YOU!!! Offering an upscale,clean,friendly environment. Many doctors, lawyers, NFL football players, musicians, and other groups of families visit in comfort and style. Jackson first opened this shop at its first location located on Hwy 6 in 1998. and opened the studio on Jones road in 2004. Many guest artists have come through TBA over the past 10 years to create some fabulous work. Artists including :
Roman Albrego,Jeff Ensminger,Timmy B.,Darrin White,Richard Stell,Edward Lee,Frankie Face,Soren Lind,Tattoos by Tio,Lenny Renken,Sam Barber,Chris Martini,Chris Blinston,Myke Chambers,Jeremy Miller,Elmo,Chris Thomas,Sideshow,Dan Henk,Tye Harris,Daniel Gailey,Jeremy Miller,Dave Tedder, Geary Morrill,Adam Normand,Puppet,Sean Ozz Oliver,Rocky Arellano,Doug Birkmire,Enigma,Clynt Costley,Maze,Zack Ross,Sammy Hayden,Ben Amos,Manu Raccoon,Jesse Cavazos and others.
TBA on Jones has been remodeled over the years and is now 3000 SF with 10 stations and a piercing studio next door called Biolab Piercing Studio ran by Ben Reel and Aaron Powers, it won 4 years in a row for best piercing studio in Houston.
Texas body Art practices the safest measures of safety in all of its operations of tattooing and piercing.Tattooing is done with single service needles and discarded after use as well as ink caps . Artists are trained in recognizing Blood Borne Pathogens and exercises careful standards of prevention.All surfaces are covered with barrier films and safety covers.The highest standards are upheld with sterilization records as well as Health and safety certificates available upon request.
Most of the work we do is custom artwork drawn by in-house artists in efforts to spread individuality among clients.Our artists will take walk in clients on a daily basis but we prefer to do original tattoos and most of them require designing prior to tattooing . Guest artists are always welcomed in and we usually announce well in advanced of guests arriving to tattoo at the studio.We offer walk in service along with custom appointments.
Texas Body Art offers an atmosphere with NO DRAMA, drugs, guns, thugs, or gangs served. Texas Body Art stands out as one of the best, not only in Houston, but in the State of Texas and we proudly support our Texas Tattoo Community. In 2017 Texas Body Art was nominated as the Winner for the 10th consecutive year in a row for Best tattoo and Piercing Studio in Houston.Be sure to check out our reviews now on yelp and google.

FOX 26 news paid us a visit recently because of our efforts with the Hurricane Harvey Relief Project. We are so grateful as a part of this city to give back to our community. Thank you everyone who Contributed and Participated.
We are Houston Strong!
---

We are now offering the
'Get What You Get'
vending machines at our Jones Rd location!
It's exactly what it says! You get what you get! 
You can choose from a $50 or $150 machine! 
Machines are filled with select Sailor Jerry Designs 
but there are also a few bonus capsules with other prizes included! 
Every purchase is guaranteed a winner of a tattoo!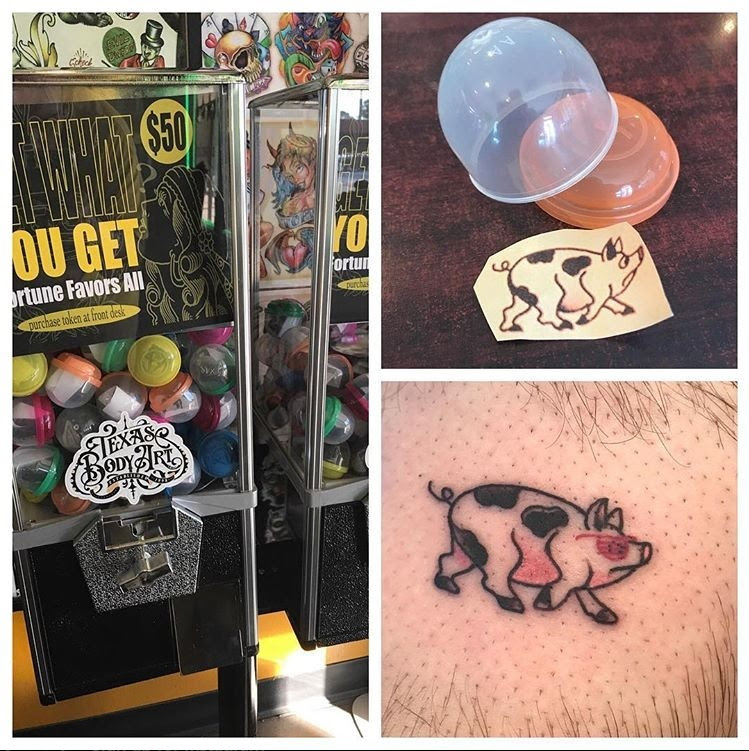 Just left Texas Body Art and what a great experience I had. Gavin was so professional, welcoming, talented and just awesome. The moment I left, I had another idea for a piece, emailed him right away, and got the fastest response. Everyone in the shop was super cool as well. Not a place where you feel akward because you aren't covered head to toe and can't relate. I'll be back within the month. Thanks guys!Angela | https://www.yelp.com/biz/texas-body-art-houston-2

Victoria M. 5.0 star rating 11/11/2016 I went in wanting a cover up, I had my ex's nick name tattooed on my lower back. I left with a beautiful piece of art in its place. I was so thankful for Matty, he was quick and skilled. He also used a numbing cream after the shading. After that I swear I barely felt a thing. I love my new tattoo! Thanks so much guys!! I'll be coming back for sure!Victoria M. | https://www.yelp.com/writeareview/biz/roIG5LyTsLX6x2Ylv90z2g?return_url=%2Fbiz%2FroIG5LyTsLX6x2Ylv90z2g
The best tattoo shop I have ever been to. Extremely clean shop. The best customer service ever. They will take the time and explain things to you. I have had the privilege of having an amazing artist every time I have gone. Travis is very professional and beyond talented when It comes to tattoos and making one comfortable. I will never go anywhere else. Very satisfied from start to finish.Letty | https://www.yelp.com/biz/texas-body-art-houston-2